Bedbug Service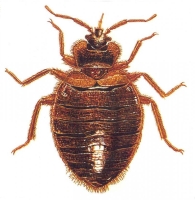 Effective treatment of bedbugs requires servicing all areas where these pests may hide. It also requires a high level of cooperation from the customer.



Treatment by Mighty Pest Control



The initial service is very intensive and consists of:

Inspection and identification of areas to be treated (usually living-room and all bedrooms)
Crack and crevice treatment of all furniture in treatment areas (using a combination of insecticide and insect growth regulator)
Treatment of floors with liquid insecticide and insect growth regulator
Insecticide dusting inside plastic mattress covers installed by customer (see Customer Requirements below)
Fogging with ULV (ultra-low-volume) machine
Additional monthly followup services are recommended, each consisting of:
Careful inspection of treatment areas to determine whether control has been achieved
Inspection stations (glue boards) may be used to augment the inspection process
Retreatment of cracks and crevices or other areas as needed (as determined by the inspection)
Required Actions by Customer
Without complete customer cooperation, effective treatment is impossible.

The customer needs to do the following things in preparation for the initial service:
All customer preparation work should be done before the service technician arrives to avoid delays and additional charges
Clean out all dressers, nightstands, wardrobes, closets, etc. Leave drawers removed from furniture. Clothing should be washed and dried (on high heat) and then placed in sealed plastic bags or garment bags. Do not put back into the dressers, closets, etc.
Purchase and install mattress covers designed for bedbug control on all mattresses and box-springs. Mattresses and box-springs should be left standing against a wall.
Disassemble all bed frames completely
Run all draperies, curtains, pillows, and bedding (sheets, blankets, bedspreads, etc.) through the dryer on high-heat. Do not re-install until after the first treatment has been done.
Remove all pets from the home and be prepared to stay out of the home for at least two hours following the initial treatment
Additional information will be provided prior to service
After the initial treatment has been done, the customer should do the following things:
Thoroughly vacuum all floors in treated areas and then remove vacuum cleaner bag, seal it in a plastic bag, and dispose of it
Reassemble beds, leaving mattress covers installed on the mattresses. Beds should be positioned so that they are not in contact with walls or any other furnishings.
Clothing may be placed back in dressers and closets but should remain in the sealed bags until at least four services have been completed
Curtains may be reinstalled, but beds should not be in contact with them
For a price quote or to arrange a service appointment, please call one of our offices.
Gadsden, AL - (256) 543-3752

Talladega, AL - (256) 362-2607